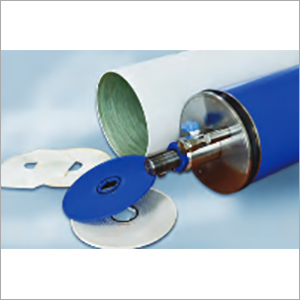 DTRO/DTNF Membrane Disk
Product Code : 11
Product Description
DTRO/DTNF Membrane Disk
Disk tubular membrane technology referred to as DT, common for disk tubular RO (DTRO) and disk tubular (DTNF). The membrane module structure is distinct from the traditional spiral wound membrane.With open flow channels,feed flows through the entrance into the pressure vessel and reach the disk in a short distance. Then the feed flows 180 degrees from one side of the membrane reverse flow into the other side of the membrane,into the next disk again and finally runoff from outlet.The special design makes feed collide with the disk bulge through the membrane surface forming turbulence which increases flow rate and self-cleaning function and long service life of the membrane.
Features
High strength design, up to 120 bar operating pressure
Open disk with low flow resistance and concentration polarization
High pressure resistance and salt rejection membrane
Applications
Landfill leachate
High concentration of industrial wastewater
Spiral wound RO/NF concentrates
Industrial high salts water
Model

SG-DTRO-H1

SG-DTRO-H2

Membrane type

SW type

SW type

Membrane material

Polyamide composite

Polyamide composite

Membrane cushion qty.(pc)

209

209

Membrane element structure

Disc tube with GRP vessel

Disc tube with GRP vessel

Membrane effective area

9.4m2 (101ft2)

9.4m2 (101ft2)

Rejection(%) *

99

99

Lowest rejection(%)

98

98

Feed flow( l/h)

500-1000 l/h

500-1000 l/h

Permeate flow( l/h)

80-350 l/h

80-280 l/h

Disc material

ABS

ABS

Max. feed side pressure drop:

9bar

9bar

Max. feed side operation pressure

120bar

160bar

Max. operating temperature:

40

40

Allowable pH continuous operation:

6-9

6-9

Allowable pH short term cleaning @40 range

2-12

2-12

Free chlorine tolerance

0.1ppm

0.1ppm

Water inlet and outlet connection (mm)

12 swagelock

12 swagelock

Permeate connection (mm)

9 (hosepipe connection)

9 (hosepipe connection)

Note: Performance data above is the normal value. The actual permeate flux of individual module may be in ±15% range.
Test conditions: RO: NaCl 32,000.mg/L @55.2 bar.