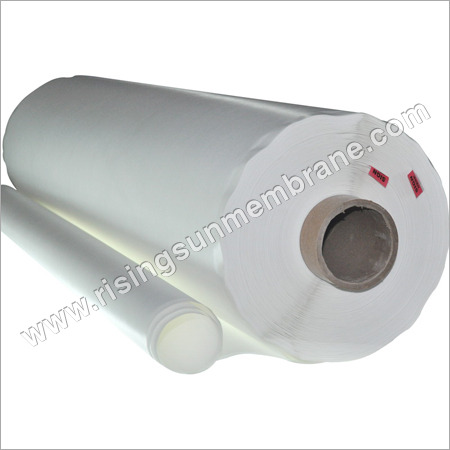 Flat Sheet Membrane
Product Code : 05
1 USD ($)
Price And Quantity
Minimum Order Quantity

:

5
Unit of Measure

:

Square Meter/Square Meters
Product Specifications
Product Type

:

Flat sheet membrane
Function

:

filter or sepration
Use

:

filter or sepration
Material

:

PVDF
Size

:

Width:40inch
Product Description
We are an ISO 9001:2008 certified manufacturer and exporter, engaged in offering an utmost range of Flat Sheet Membrane. These membranes are used for the applications like waste water treatment, ground water filtration and RO pre-treatment. Our Flat Sheet Membrane is made by a team of veteran professionals using best quality materials, following the norms and guidelines laid down by the industry. Our products are offered to the clients at industry leading prices.
Features:
Chemical resistance
High flux
Lowest fouling tendency
Further Details:
Flat sheet membranes are generally rectangular in shape, although other shapes also exist for membrane modules designed to swivel. The differently designed elements can be described as a sheet, cartridge or a panel. Majority of the rectangular panels are semi rigid with the exception of some thinner products which are more flexible.
Rigid panels have a plastic backing plate to which the membrane's edge is welded on both sides. Water flows to inside of the panel from the outside and the permeates are collected. The sludge is lifted up through the membrane channels by air bubbles supplied by a coarse bubble aerator put below the module.
FS membranes are almost always used for immersed MBR's for industrial as well as municipal uses, where they are more preferred for smaller installations owing to their operational simplicity.
Application:
Produced water
Industrial applications
Pre-filtration for ro
Waste water
Ground water
Drinking water
| | |
| --- | --- |
| Membrane Chemistry | Membrane Advantages |
| PES | Chemical resistance |
| PS | MWCO is precise |
| PVDF | High flux, long usage life |
| PAN | High resistance to fouling |
| PA | Acid/caustic resistant, high temperature |
| CA | membrane are available |
| RC | |
Technical Specifications
UF Membrane Model

Membrane Chemistry

MWCO(Dalton)

Flow Rate(LMH) @25oC, 0.35MPa

Replacement Reference

Typical Application

Brand

Model

UE001

PA

1000

40

GE

GE

Color Removal
Chondroitin Sulfate Concentration
Antibiotics, Protein and Polypeptide Concentration
Enzyme Concentration
WPC/WPI
Purification of Antibiotics and Vaccines
Recovery of Whey Protein, Gelatin, Enzyme
Electrocoat Pain Recovery
Cell Harvesting or Biomass
Beverage Clarification
Pretreatment for RO/NF, etc.

UE003

3500

65

GK

UE005




5000

100

KOCH

HFK-328

GE

PT

UE008




8000

130

GE

GM

UE010

PES




150

KOCH

HFK-131

GE

PW

NADIR

UP010

UE020




20000

200

NADIR

UP020

SEPRO

PE20

UE030




30000

240

NADIR

UH030

UE050




50000

260

UH050

US020

PS

20000

280

SEPRO

PS20

US050

50000

350

NADIR

US100

UF050

PVDF

50000

400

KOCH

HFM-100

UF100

100000

500

HFM-300

UN100

PAN

100000

450

SEPRO

PA400

UR030

RC

30000

250

NADIR

UC030

UR100

100000

350

UC100

UC005

CA

5000

150

SARTORIUS

14529

UC010

10000

200

14539

UC050

50000

350

14549
MF Membrane Model

Membrane Chemistry

MWCO(um)

Flow rate (LMH) @25oC, 0.35MPa

Replacement Reference

Typical Application

Brand

Model

ME005

PES

0.05

>280

NADIR

MP005

MBR Industry, Biotech/Pharmaceutical, Microbial removal, Protein separation, Antibiotic Clarification, Enzyme Clarification, Pretreatment for RO/NF etc.

MF010

PVDF

0.1

>500

TORAY

MBR

MF022

0.22

>1000

KUBOTA

MF045

0.45

>1500

ENVIS