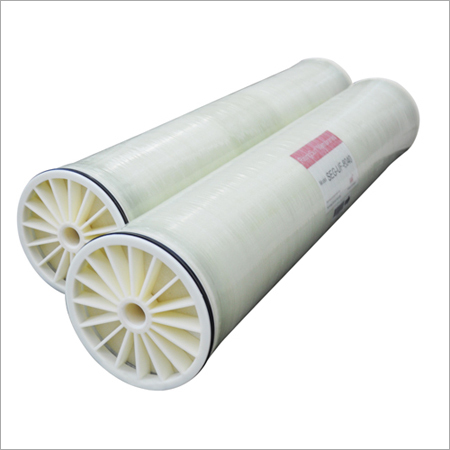 Spiral RO Membrane
Product Code : 03
Product Description
This Spiral RO Membrane can be used for a variety of purposes like water desalination, removal of trace organics, processing stream which requires chlorine resistant membranes. This membrane is manufactured under the supervision of our dexterous professionals using top quality raw materials. The offered membrane is widely demanded in food, dairy and beverage industry etc. We are a renowned exporter, manufacturer and supplier of Spiral RO Membrane so our patrons can avail this from us in bulk.
Further Details:

RO membrane removes many kinds of ions and molecules, bigger than 0.0001um from solution, and enable smaller elements of the solution (typically water) to pass freely. A very common application is seawater desalination in which clean water is produced from a very saline feed stream.

We provide reverse osmosis membrane elements with low, extra low and standard pressure for sea water purification as well as water treatment by using high import quality RO membrane sheet.

Height of feed channel can be different by the thickness of feed spacer material, from 13 - 120 mil. This assists to adapt the viscosity or liquid's solid content. This design aspect leads to outstanding hydrodynamics in combination with low energy demand. In order to meet specialty applications, sanitary, heat sanitizable, high temperature or fouling resistant membrane products are also available.

Membrane material: Polyamide, Special composite membrane
APPLICATION
Desalting of various liquid

Ultrapure water production in pharmaceutical, biotech industry

Whey concentration in dairy industry

Sea water purification

Boiler feed water at power stations

Home & commercial drinking machine
ADVANTAGES
High flux, low energy consumption and long life
Imported high quality raw material
Simple and economic module replacement
Various choices of module dimensions