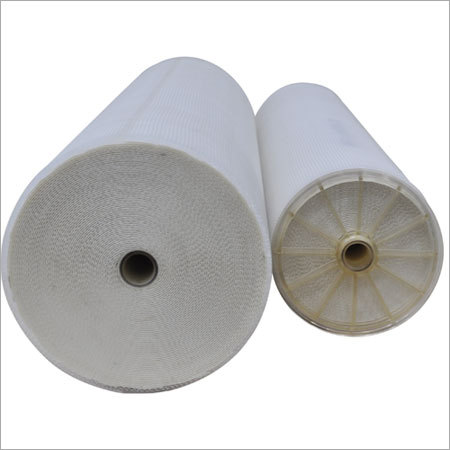 Product Description
Our dedicated professionals manufacture this Microfiltration Membrane using top-notch grade raw materials which can be bought from us at competitive prices. This membrane is used in various applications like filtration and separation of water, sterile fruit juices and aseptic pharmaceuticals. The provided Microfiltration Membrane can be availed in several technical specifications within prescribed delivery time by our prestigious clients.

Key Points:

Reusable
Simple to fit

Ideal for sterilization
Compact design
Further Details:
Micro filtration is a filtration process that eliminates contaminants and other foreign materials from a fluid by passing the fluids through a micro porous membrane. The size of a normal micro porous membrane is in the span of 0.1 to 10 micrometers. Apart from the size of molecules it retains, micro filtration is not fundamentally different from reverse osmosis.
Micro-filtration Membrane typically serves as a pre-treatment for other separation activities such as ultra filtration. The usual particle size for MF membrane covers from 0.1 to 1 m. In terms of estimated molecular weight, these membranes can prevent particles like bacteria, suspended solids, and other macromolecules colloids, and go through water, monovalent species, inorganic salt and small colloids. Compare to ultra filtration, MF systems work at relatively low pressures around 0.3 to 7 bar.

We offer spiral MF membrane with various membrane material and pore size. They have an optimum surface area to volume ratio, and feature a compact design. The height of feed channel can be different by the thickness of feed spacer material, 13 to 120 mil. This facilitates to adapt the solids content of the liquid or the viscosity. It also leads to outstanding hydrodynamics in a blend with low energy demand. To fit some special applications, fouling resistant, acid/caustic resistant, or high temperature Micro-filtration Membrane goods are available.
Micro filtration membranes:
This enables the membranes to to segregate large suspended solids, while allowing protein, salts and sugar to pass through. MF membranes have an asymmetric pore structure, with tighter surface pores and more open macro voids.

Micro Filtration Applications:

Ideal for the treatment of portable water supplies.
Also used for cold sterilization of beverages and pharmaceuticals.
These are used in petroleum refining for the removal of particulates from flue gases.
Micro filtration membranes also find application in the production of paints and adhesives.
Clarification for fermentation broth in pharmaceutical and biotechnology industry
Clarified lysate Biochemistry
Removal of suspended solids
MBR industry
Pretreatment of RO/NF
Capsule filters
Laboratory disc filters
Point of use filters
Pleated cartridges
Advantages
:
High thermal and chemical resistance
Imported high quality raw material
Sanitary design without dead space, high resistance to fouling
Simple and economic module replacement
Various choices of module dimensions
High packing density
Technical Specifications
MF Configuration
Outer Wrap
Membrane Range
Membrane Material
Membrane Pore Size
Size
Feed Spacer


Internal Code
Spiral
Sanitary Net Glass Fiber
MF
F=Pvdf
E=Pes
0.05um
23192.3x19
A=13mil
F=31mil
May Be Omitted
0.10um
38383.8x38
B=17mil
G=46mil
0.22um
83388.3x38
C=20mil
H=65mil
0.45um
80408.0x40
D=26mil
I=80mil
E=28mil
J=120mil
1=Diamond
2=Parallel